Jika Film Berhenti, Silahkan bersihkan chace, reload browser atau ganti SERVER 1, SERVER 2, dst. Gunakan Selalu Browser Google Chrome.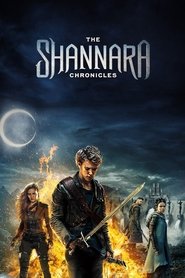 The Shannara Chronicles (2016)
Ada serial TV terbaru lagi nih bro! Serial TV bergenre petualangan dan fantasi ini berjudul The Shannara Chronicles yang mulai ditayangkan di MTV pada 5 Januari 2016 lalu.
Film serial The Shannara Chronicles Season 1 ini emang bagus banget buat diikutin. Selain banyak adegan2 keren dengan visual effect yang bagus, alur ceritanya pun seru. Berasa nonton film Hobbit atau Lord of The Ring, bro!
Serial TV yang diadopsi dari sebuah novel fantasi terlaris yang berjudul "Shannara" ini mengisahkan pelarian Elf dalam suatu misi yang berbahaya untuk menyelamatkan orang-orang dari kejahatan yang ditebar Iblis kuno.
The Shannara Chronicles (2016) – A young Healer armed with an unpredictable magic guides a runaway Elf in her perilous quest to save the peoples of the Four Lands from an age-old Demon scourge.
"The Shannara Chronicles" An Elvish tree, known as the Ellcrys, is dying. The bad news is that the tree has been the only piece of magic that protects the Four Lands from the Demon World. Amberle Elessedil is the only one who can save the tree. But she has to unlock magic that the Elves haven't used in thousands of years. With the help of Wil Ohmsford, she travels to find the lost magic. But it won't be an easy task.
Views: 1367
Genre: Action & Adventure, Sci-Fi & Fantasy
Director: Alfred Gough, Miles Millar
Actors: Aaron Jakubenko, Austin Butler, Gentry White, Ivana Baquero, Malese Jow, Manu Bennett, Marcus Vanco, Vanessa Morgan
Studio: Farah Films, MTV Production Development, Sonar Entertainment